Partnering with a client who has signally amplified the cultural vibrancy of our city served as a reminder of why working at a marketing agency is so fun. No two days are ever alike. You never know whom you're going to get the opportunity to collaborate with next. Every new project brings with it a fresh invitation to learn, grow, and push the boundaries of what Mr. Zander would call our "framework of possibility." 
After many hours of hard but enjoyable work, we're proud to announce that the new Benjamin Zander Center website is live and ready for you all to explore and enjoy. The process was a formative, eye-opening experience for our agency, especially the designers and developers whose job was to bring Ben's vision to life. 
Telling the story of Ben Zander
"The world comes into our consciousness in the form of a map already drawn, a story already told… Our minds are designed to string events into storylines." – Ben Zander 
The more we learned about our client, the more we realized that despite being nominally a "conductor," he was a more multifaceted man than any one job title could ever convey. He's one of those artists who means vastly different things to millions of different people depending on who they are and where they've encountered his work.
For instance, to some, he's a conductor. However, to others, he's an author, a teacher, or a public speaker. This breadth of experience meant that we needed to give people clear pathways to discover the separate but interwoven threads comprising the full Ben Zander story.  
We also had to be sure to communicate that there's a marked difference between who Ben is as a human being and who he is as an institution. These two storylines naturally crisscross since the organizations and enterprises that he's founded over the years are all inherently imbued with his unique personality and vision. Still, presenting Ben and his Center as two sides of a coin rather than one solid, inseparable commodity helped convey the distinction between his personal life and his life's work. 
In the end, our approach to communicating Ben Zander's story stemmed from a desire to give visitors the ability to browse and jump around to different sections of his biography. We aimed to build an engaging experience that encouraged intuitive exploration and discovery.  
Crafting the Zander Experience
"Offer that which lights you up, and have no doubt that others are eager to catch the spark." – Ben Zander 
Presenting our client's story was the first step. Next, we needed to map out how people would interact with that story and all of its accompanying media. How would visitors to the website receive his message and enjoy his work?  
This was no mean feat considering the size and scope of his existing content library. From a development point of view, it meant consolidating, streamlining, and organizing decades' worth of video and audio into an easily navigable format that invited users to chart their own personalized course through the different media collections.   
In designing and building the library, our team sunk into the intersection of classical music performance and music education. We came up with an incredibly explorative user interface that allows the user to browse and filter the content while watching or listening to the incredible content on the site.
The result was Zander Experience, an immersive, multimedia stroll through everything that Ben Zander has to offer. One continuously flowing page that presented visitors with non-stop possibilities for exploration in the form of navigational links sandwiched between quotes from and about Ben Zander, all accompanied by classical music playing in the background. 
If you've heard Ben Zander speak, you know that his presence is truly an experience. "The Zander Experience" takes the user on an immersive journey that encapsulates Ben's energy, educating the user on who he is, and entices them to keep exploring the site.
Placing all of these options in one place aligned with Ben's philosophy about keeping people engaged, when somebody says "no," they're really saying, "I don't see a possibility here." Therefore, he says, "Keeping people on track is all about maintaining the clarity of the framework. Possibilities need to be clearly articulated. People only stray off track when possibilities are absent." 
This experience is one where people are kept focused and on track because they're surrounded on all sides by intriguing possibilities that, as Zander says, "appear as variety, pattern, and shimmering movement, inviting us in every moment to engage." 
What's our next step
Building an environment that encourages collaboration is largely about reminding people that they're not alone. In his work, Ben says that he avoids asking people what their next step is and instead asks them what our next step is.  
We put this principle into practice in two ways. First, by attaching virtual tour guide-style VO recordings of Ben Zander walking users through different pieces of music and explaining their significance. Second, by filling each page with plenty of associative links to related pieces of content that users might be interested in based on their browsing behavior. 
This part of the site is choc-full of custom features, including a fully custom video/audio UI, a related content algorithm that suggests similar content from a 10-attribute matrix, an "up next" feature that will never recommend content the user has already digested, and the highly performant integrated filter and search.
With these functions in place, the experience of exploring the site would feel personalized, interactive, and collaborative. It's like you're listening to music with the conductor, not by the conductor. Without these features, the website would feel like a museum without signs, maps, or employees. It would still be interesting, but much more lonely and potentially confusing. Incorporating listening guides and custom user paths made the whole database of content manageable for visitors of all expertise levels and musical backgrounds.  
This brings us to our third major goal of the project: making classical music something that everyone can enjoy. 
Making classical music more approachable and accessible
After implementing systems that ensured the site would be navigable, intuitive, and engaging, we began brainstorming ways to make the subject matter itself more approachable and accessible. 
For better or worse, when the average person pictures a classical music website, their mind likely conjures up refined and elegant yet somewhat somber and sacerdotal imagery. Lots of crisp black and white designs garnished with neat copy scrawled in flowing serif typefaces. Like a piece of sheet music in website form.  
We strove to challenge these assumptions by building something unexpected and fun. Something interesting and engaging that retained all the elegance inherent to the worlds of Beethoven and Mahler but lost the stuffiness.  
As Mr. Zander so concisely put it, "Everybody loves classical music, it's just that some people haven't found out about it yet." So, our job wasn't to change the genre, but rather to lay a clearer, smoother path for more people to discover it. 
It's all invented
To help more people welcome classical music into their lives, we leaned on another of Zander's core teachings which is that everything is, in a sense, made up.  
"The human mind makes up boundaries that confine what we perceive as possible. Expand those boundaries and the limits vanish while new opportunities appear." – Ben Zander 
Any physical or figurative thing that has been invented by humans can be re-invented, re-made, redefined, and revamped to fit new purposes and offer new possibilities. 
In this case, the objective was to remove the made-up boundaries separating ordinary people from what is commonly assumed to be a well-heeled genre of music.  
To achieve this, we designed the site to communicate that this art form, like all art forms, exists solely to move people. All people. Regardless of who they are or where they are in their lives. 
Through this lens, users see the website as a tribute to art, creativity, passion…  all the things that make the eyes sparkle and life worth trudging through. Cellos, violins, and violas just happened to be the conduit through which that broader message was expressed. 
The color palette 
To help reinforce the celebratory mood of the site, we came up with a bright and cheerful color palette that was fun but still somewhat serious and refined.  
Classical music can come with a stigma and Ben Zander absolutely squashes that. The pink/purple gradient used throughout the site challenges the expected and embodies Zander's excitement, energy, and infatuation with possibility.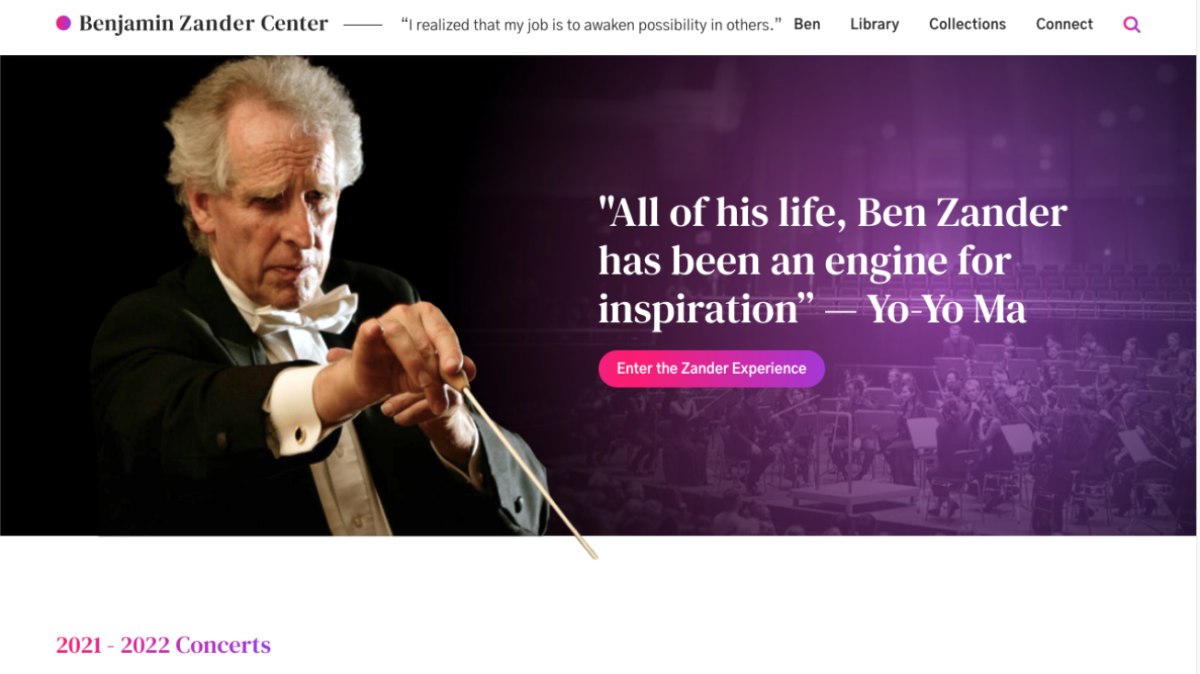 Both Ben and our design team agreed that this glowing pink and purple gradient complimented the more traditional black and white backdrop in a way that brought the page to life. It looked the way the music should make you feel, like light breaking through darkness. 
Plus, purple is one of those colors that is simultaneously joyful but also regal. It's complex and multifaceted. Its brighter shades are full of flowery romantic energy while its darker hues – like the purple dye lining the toga of a Roman senator – are more serious. Pink, on the other hand, is pure fun. Of all the colors, it takes itself the least seriously, which is in line with Rule #6, one of Mr. Zander's most important principles.  
Connecting with Ben
"The life-force of humankind is nothing more than the energy to connect, express, and communicate. Lighting sparks from person to person. Scattering light in all directions. Sometimes these sparks ignite a blaze; sometimes they pass quietly, magically, almost imperceptibly from one to another." – Ben Zander 
We live in an age where people online expect businesses and public figures to be accessible and reachable. The whole field of conversational marketing has sprouted out of this phenomenon. Fortunately, we found that our client was willing and even eager to interact with the public which made our job much easier. All we had to do was communicate his desire to engage with audience members and let the dialogue unfold from there. 
The white sheet discussion method
To Ben, the conductor's true power "derives from his ability to make other people powerful." So, to empower his students and make them feel heard, he came up with a way to break down the barriers between them: White sheets. 
At the start of rehearsal, he would place a blank white sheet on every player's stand where he encouraged them to write down any thoughts or feedback that they might have. This could include ways to make the orchestra better, things that he himself could improve upon, or just something interesting that they noticed and felt like pointing out. All thoughts and feelings were valid, and they all received Ben's full and genuine attention.  
Over time, these "white sheets" resulted in more honest and candid communication between the orchestra and their conductor which improved everybody's experience. In developing Ben's new website, we wanted to tap into that same energy – to encourage that same openness and reciprocity in a digital context.  
This ended up taking the form of a unique sort of "contact us" page where visitors could not only submit a message to Ben but see real responses that he's given to other people. This provided social proof that we hoped would nudge people towards initiating their own discussion with Ben. We also chose to call it "connect" rather than "contact" since the latter implies a sort of one-sidedness while "connect" feels more conversational.  
Blogs, articles, and reviews
Like any website worth its salt, the Ben Zander Center contains a blogs, news, and insights section. In this forum, Ben and members of his professional and social circles can publish timely updates, thoughtful reflections, music reviews, upcoming events, and whatever else they feel the community should know. It's a way to keep fans and colleagues informed and entertained. 
Key lessons learned
We gained a lot from this venture. We gained knowledge, experience, perspective, and a renewed appreciation for classical music… But above all, we gained valuable insights into our own work. The most important of which is to forget what we think we know and approach each project like a blank slate.  
As the partnership grew and progressed, we saw that if we stayed within the invisible boundaries of our comfort zone, many of the problems we faced would appear unsolvable. However, if we stretched the limits of this imaginary forcefield, everything became much easier.   
We realized that it wasn't a matter of fitting our client's life story and work into a single box, it was about breaking down the box and building up a framework that brought forth possibility. 
If you're interested in becoming the next client to inspire us, we'd love to chat. Especially on the heels of this project, we're open to any and all exciting opportunities.