Okay, overstatement of the century: healthcare marketing has its own unique set of challenges and considerations.
Data sensitivity, regulatory compliance, and patient privacy concerns (HIPAA, anyone?) all play a substantial role in any healthcare marketing strategy.
Rules can sometimes temper exciting ideas and force creative teams to be deliberate and strategic about how they present themselves online. But, in the end, there is one basic, fundamental similarity between medical marketing and traditional product or B2B marketing: success often comes down to building solid connections.
Ultimately, doctors and patients must be able to find each other: HCPs need to identify the right users, and patients need to find the proper healthcare. If a healthcare business can forge these connections faster and more efficiently, the whole marketing process can fall into place.
That's where a FINDA tool comes into play.
Our FINDA tool (like other Find a Doctor geolocation applications) can enable healthcare providers and brands to fast-track those connections between physicians and patients with ease, drastically simplifying the process of moving users from "Awareness" to "Conversion."
By making it easy for prospective patients to discover where healthcare providers are located, the FINDA tool can help to maximize leads and get the most out of a doctor's, medical device's, or healthcare practice's website.
The 411 on FINDA Tools for Healthcare
If you've ever been on an eCommerce site or an app for a chain restaurant and searched on a map for a nearby location, you've used a FINDA tool.
Essentially, a FINDA tool allows users to punch in their location—usually, their town, city, or ZIP code—and the map will zoom right to the "storefront" nearest them.
Elementary stuff, even if the tech behind it is complicated (more on that later).
For healthcare sites, the basic functionality for a FINDA is essentially the same: patients plug in their zip code and can immediately begin browsing nearby locations (doctors, hospitals, providers, etc.) that offer the service they're looking for.
A good FINDA tool can also (in most cases) be customized to provide the best input for your audience. For example, users may want to search more precisely: for individual doctors, hospitals, healthcare providers, etc.
These features offer two significant benefits for healthcare businesses:
Strengthen the experience for a variety of user journeys
Provide a helpful tool for identifying hot leads
Maximizing connections with nearby patients.
Generally, patients are interested in one thing: finding and receiving the best care for their condition… preferably at a treatment center in their area.
According to one 2021 survey of 1,000 patients conducted by Press Ganey, patients "rely on digital resources 2.2x more than provider referrals when choosing a healthcare provider." On top of that, over half of all respondents (51.1%) reported that they "turn to the web when choosing a new primary care provider."
The course of action here is evident for healthcare providers: since more and more patients are actively seeking you out online, you must make yourself easy to find. The more intuitive the process for locating you, the better your chances of capturing their attention.
Your digital presence is especially important now that the popularity of telehealth is quite possibly at its peak. Local physicians and healthcare centers looking to forge those in-person patient relationships need to pave a smooth path from "desktop" to "doorstep."
Building cohesion within a healthcare system.
For larger, regional, and multi-location healthcare systems, a FINDA tool provides an easy and effective, shared marketing resource that can benefit all involved HCPs—essentially, a rising tide that lifts all boats.
Physicians already weigh the benefits of joining a healthcare network: primarily, the shared resources, processes, funding, and marketing benefits of a more extensive network can often outshine individual efforts.
The same principle generally applies to a FINDA tool. The larger your pool of "results" (I.e., nearby doctors, hospitals, pharmacies, healthcare providers, etc.), the greater the overall benefit for patients seeking local health professionals.
Strengthening connections for medical device manufacturers.
Ask any medical device manufacturer which is more difficult:
Inventing revolutionary new healthcare technology
Overcoming regulatory hurdles to get to market
Getting that technology in front of relevant audiences
Sometimes, it's hard to determine—and that's why the FDA has guidelines for all three. That's because, even when technology is truly groundbreaking and the early stages of marketing and brand awareness are in place, there's still a missing link separating the product from the people.
Once a company has designed an exciting new medical product and gotten the word out about it via marketing and advertising, they still have to bring it all full circle and pave the way toward an appointment.
A FINDA Doctor tool closes this gap using geolocation to clearly and intuitively show people how and where they can locate the device or an HCP that can assist them.
Not only does this help to drive conversion for a medical device, but it also offers a powerful new marketing channel for connected physicians.
How does a FINDA Doctor tool work?
Essentially, a FINDA tool breaks down into a few key pieces of functionality:
Zip Code or city lookup. Patients not seeking a specific doctor or location can search by zip code or city. Broad, flexible search parameters allow the FINDA tool to return a list of all nearby locations, usually filtered by distance (although other filters may be available too).
Location listing. All relevant destinations (physician's offices, hospitals, etc.) are added as points within the FINDA tool. This allows searchers to locate their nearest provider via geolocation, depending on where they've set as their starting point.
Directions. Usually, this involves integration with Google Maps or Apple Maps. This makes it easy to set custom starting & ending points and fills in the journey with the shortest or most efficient travel routes.
Example: connecting patients with Conformis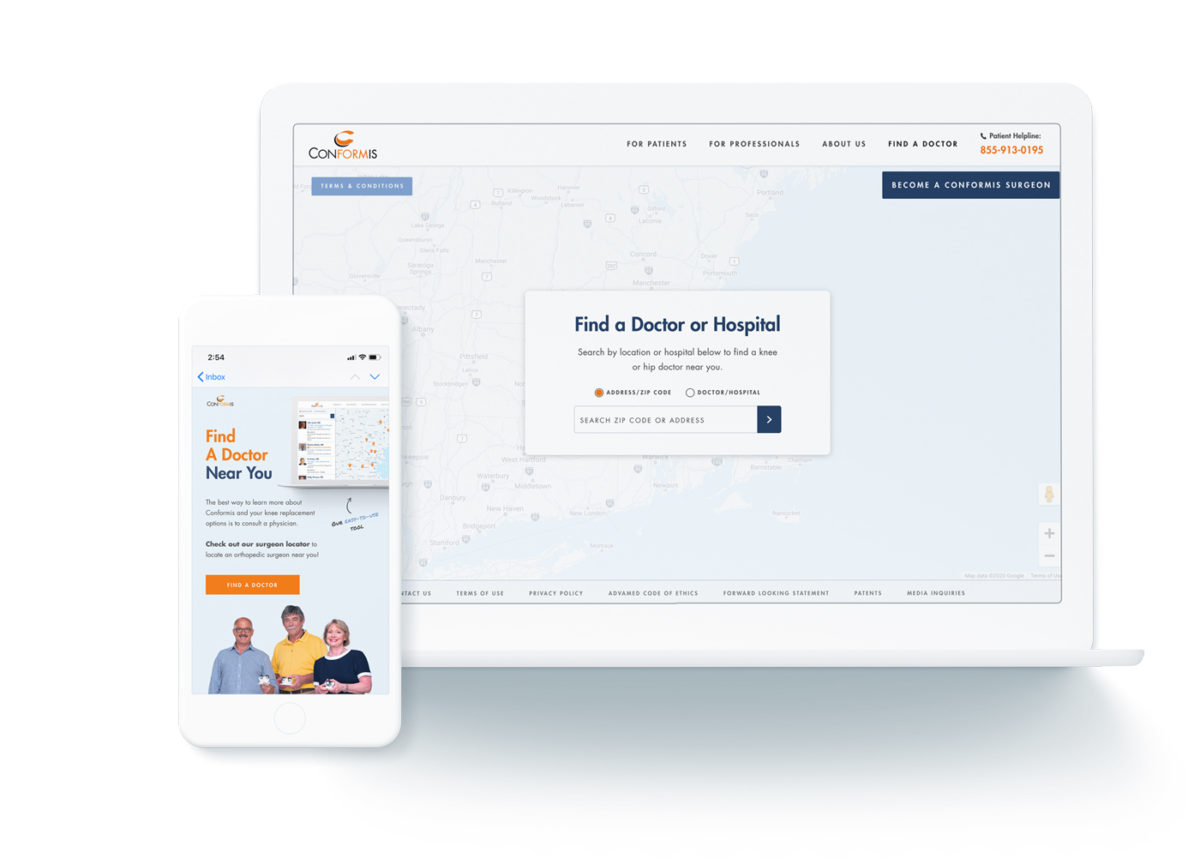 When we partnered with Conformis—a maker of revolutionary, personalized knee and joint replacements—they identified a FINDA tool as a key need for their business.
In short, Conformis needed to optimize two portions of their marketing: building awareness of their innovative new products and helping patients connect with physicians who can provide the surgery.
We built a custom FINDA tool designed to maximize discoverability for Conformis's network of physicians.
Along with listing all physicians who provide Conformis joint replacements in a user's vicinity, we also knew the FINDA tool needed to include a few key features to stand out in the marketplace:
Expedited appointment scheduler.
"Also works at" information.
Surgeries offered.
Product type filters.
Start facilitating mutually beneficial connections
Successful healthcare marketing is all about creating a strong fabric of separate but interwoven buyer paths. In order to bring your product or service to as many people as possible, you must secure the buy-in of providers AND patients. Then, to bring it all full circle, you need to ensure that these two parties come together.
Our FINDA Doctor software is a powerful unifying tool that helps ease the process of
Encouraging patients to discover the right physicians for their specific needs
Exposing physicians to the right audiences. I.e., people who are already seeking their care
To get started with a FINDA Doctor program of your own, we encourage you to contact our agency. Our development department will be happy to walk you through the steps of implementing a smoother path to conversion for all your buyer personas.